Devi Anne Moore is an inspirational spiritual artist who also teaches in her studio, Bezalel Studio.  She holds a BFA in painting from Tyler School of Art, Temple University, an MFA in studio art from Old Dominion University, and an MA in Theology from Regent University, where she taught Engaging the Arts. She is most noted for her amazing art of the entire Book of Revelation, art now available in seven eBooks. These eBooks are a phenomenal way of meditating on the verses as they correlate to the images, and they make great gifts.

From an early age Devi describes herself saying, "I knew I was an artist since the age of 12."   Even in the 70's while in art school, she was told painting was dead, but she refused to believe that and continued to teach herself what was not taught in the school.  As a result, she learned a special way to teach others fine art.  She says, "I feel that artists are perpetual students who love to learn and grow in their areas of interest.  It is a journey just like faith.  What excites her as an artist is the desire to express faith and spiritual understanding in a visual way.  Her art gives a visual platform for the invisible, sometimes with provocation since Art gives rise to a dialogue about controversial things. "

Other than working directly from life I have been using my imagination with reference photos to create new art with a purpose and dialogue while still using the Contemporary Classic realism. This series I call Biblical Surrealism uses selective references from the Bible which are pertinent to today's happenings. As I use my imagination while reading the Scripture reference, I create inspirational art. Scripture is multilayers which forms what I consider surrealistic thoughts and imagery in the mind.  Using these enthused ideas, I then find visual references and juxtapose them to create new art with the purpose to open dialogue for the viewer to consider what I have painted. A picture does speak a thousand words. I hope my art speaks to you.

Her award-winning work has been exhibited widely within the national art community in museums, galleries, universities, art centers, and co-ops.  The art has also been featured in magazines such as "Christianity and the Arts", "Bible Review", and is featured as a column in "Touching His Heart". Her "White Throne Judgment" was chosen one of the "Top Ten" in the international call for art, "Jesus 2000". She also has several other bodies of work including "The Land of Contrast" depicting the area of En Gedi near the Dead Sea in Israel.

Since 2013 Devi has been under the tutelage of master artists at Studio Incamminati who studied under Nelson Shanks.  She now incorporates what she learns each year to her students.
Art Exhibit and Meet the Artist: Devi Anne Moore
Here is a video of my art process. Besides art school for a BFA and MFA  I have been fortunate to study with many artists at Studio Incaminati and with Michelle Tully at Studio Escalier. 
Education

Studio Incaminnati   Phila. PA study under Steve Early, Darren Kingsley, Peter Kelsey, Kerry Dunn, Lea Colie Wight, Natalie Italiano 2013-present
O.D.U. and N.S.U, M.F.A. in Painting, 1991
Regent University, M.A. in Theology and Ministry, 1988
Tyler School of Art, Temple University, B.F.A. in Painting, 1977
__________________________________________________________
Experience
Bezalel Studio                                                        Studio Fine Art Instructor/owner
Chesapeake, VA                                                            09/1992 to Present
The Art whisperer: workshops, camps, artist-in-residences, ongoing classes
in her studio and places by invitation for children and adults, beginners to
advanced as well as special needs
Regent University                                                  Adjunct Professor
Va. Beach, VA   2009-Present

Contemporary Center for the Arts              Art instructor
Virginia Beach, VA.                                                 09/ 1993 – 05/1996

Norfolk State University, .                            Studio Art Instructor
Norfolk VA                                                               Fall Semester 1990
Figure Drawing

Paste Christian Univ. of the Arts                Painting Instructor
Newport News, Va.                                                   1989

New Community School                              Artist in Residence
Richmond, VA.                                              1979 – 1981
Special school for Dyslexia
What People are Saying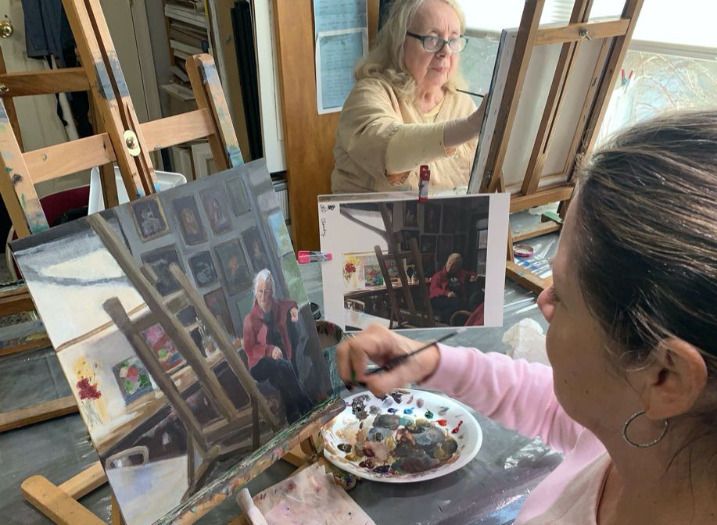 Devi Moore is a wonderful hands on teacher with positive critiques and demonstrations. I have learned more in her class in a few months, than I learned all year with a previous teacher. I rate Devi Moore a 10 on a scale of 1-10, 10 being the highest

-Lois Center-Shabazz


I have been studying with Ms. Moore for five years and I can see so much positive change. Would encourage anyone interested in the arts sign up and enjoy learning. She is one of the best in the area

- Jean C. Dryer

Gerry says , " Before I took Devi's classes I was a mediocre painter. I started taking her classes and with her guidance I am becoming an actual artist! I even won best in show at a recent juried exhibition! " Take her Adult classes or workshop --You won't regret it!

-Gerry Schauer

After years of not feeling confident about my artistic ability, Devi was the perfect teacher to get me fired up again. Not only did she have the knowledge and skills to help me remove my technical roadblocks, but she taught me how to look at my art in a way that keeps me excited and hopeful about what I can do next.

-Lindsay Gibson


Devi is a very inspiring teacher who assists her students with great instruction in the art of painting but allows them to develop their own style!!!

-Claudy Barnes  MFA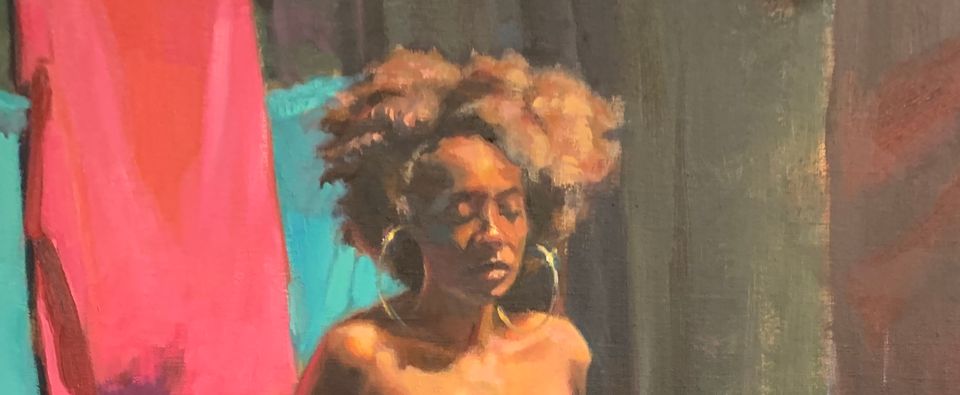 Art Work Testimonials
"Multifaceted artist Devi Anne Moore invests her portraits with personality and distinction.  Family history and dynamics are background for her creative Vanitas series merging East and West, while her imagination soars in her symbolically complex biblical surrealist paintings."
Robert C. Kennedy art collector ad curator


Devi is a masterful artist, gifted and visionary.  Her paintings resonate with mystery, passion, and longing.  They are wholly evocative in their unique use of perspective, color, and texture, often using materials to create a three-dimensional depth. What I especially like is their uniqueness. No one makes art like Devi's. She has perfected her own breathtaking visual symphony.
-BJM
Professor Emerita, Gannon University

 
'Devi Anne Moore is an artist of true depth and vision. Her work demonstrates both the skill and control of a highly trained artist and the raw power and emotion of a person who's felt deeply their connection to the beauty of this world and beyond. '
        Instructor, Studio Incamminati 
Over the years, I have been privileged to view a lot of Devi's paintings:.; they are fabulous, particularly the portraits. 
                                                                                                  -Maryse Satz

Devi's artwork is highly skilled, inspiring whether portraits, narratives, or still life! Her colors impact the viewer tremendously. She has won many awards in our region and beyond!
 
                           Claudy Barnes, a longtime student 

Devi Anne Moore's art is an encounter with that fleeting moment of recognition that brings life's essence into the focus of your attention. There is an immediacy to Devi's work that draws you in and keeps you staring, soaking up the richness of her visual poetry. Devi not only paints with soul, she will reconnect you with your own through the experience of her work.

Lindsay Gibson PsyD​​​​​​
Want to Buy One of  My Paintings or Discuss a Project?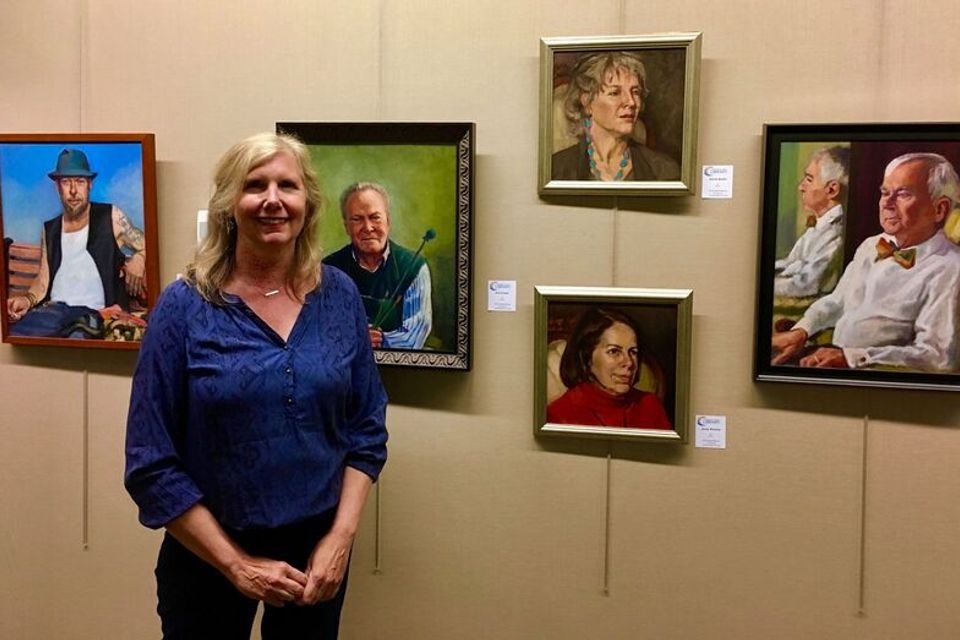 If you're interested in hiring me for a custom piece of art, want to purchase one of my creations, or are thinking about attending a lesson, here are some reasons why you should work with me
.
I'm Classically Trained
I've attended the top art schools in various cities including Philadelphia Studio
Incamminati, Paris Studio Escalier, Florence as well as earned a BFA, MFA, and  MA 

I'm Creative
Every piece of art I produce is 100% original and unique.
I'm Friendly and Professional
I stand behind all of my artwork and services and offer a 100% satisfaction guarantee.
FAQ




Here's a list of answers to the questions I'm asked most frequently.

 
How did you became an artist?
It kind of came naturally. I loved to draw since I was seven. My oldest sister taught me color theory with regular crayons. Although my teachers thought I was too outside the box I used opposite color overlay from that time on.  I continued to expand my skills throughout high school drawing from life and then  on to college. In fact I am always learning something or studying under some art atelier or program. 
Where can I see your work?
I'm always sharing new examples of my work on my website, social media.You can schedule an appointment to se my studio which serves as my gallery. 
Do you sell your paintings?
Yes. Most of my artwork is available for sale. If you are interested in a particular piece, please
contact me
for pricing and availability or come see the art in person. 
How can I hire you to create a custom piece of art?
Sure! Let's start with a quick chat so I can learn more about what you are looking for and to confirm my availability.
Do you offer art lessons?
Yes. I offer small group lessons for adults young or older.