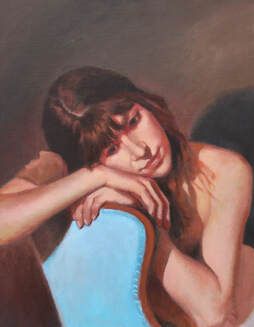 Portraits and Figures
Painting both alla prima and indirectly, I use live models capturing the model with an idea derived from the pose.  ​Painting directly from life invigorates an emotive quality for me as I get in my zone, silently interacting with the person in front of me, trying to capture at that precise moment of time what I see and feel. As I begin to make my first brush lines of gesture, it is my foremost desire to reach an authentic likeness. These paintings begin from the method I learned at Studio Incamminati in a gesture of straight lines searching for the shapes and proportions that are crucial for a likeness. The start predicts the outcome and is vital to the final painting. I am also interested in painting the light -I interchange using both North Light and Warm halogens, sometimes adding colored gels to create the light I want for that painting.

 
Portraits and Figures
The energy you expend in keeping up with your goals at each sitting creates the dialogue of emotions that goes down in color strokes and details. A picture does speak a thousand words. I hope my art speaks to you.

When I don't have a person to paint, I practice with self-portraits as well as still life's that I call my personal Vanitas. I use objects taken from my childhood and surroundings that speak of family and roles I had in different stages of my life, but in reflection, I work out historical family differences of perception.